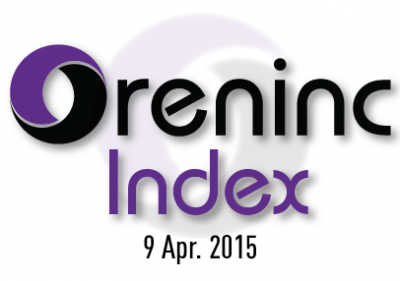 Oreninc Index Explodes to 25-Week High
The Oreninc Index exploded to a 25-week high in the holiday-shortened week ending April 9, 2015. Total dollars announced jumped to $166.1m on 32 financings, eight- and six-week highs respectively. Five brokered and bought financings were announced for $138m, eight-week highs for both.
Deal-making was robust with one of the biggest deals of the year (so far) being announced—Royal Dutch Shell's (NYSE: RDS) acquisition of BG Group (LON:BG) for a cash and stock deal worth $70b (USD). Commodities had another up and down week, with gold gaining a bit before falling below $1,200 an ounce. Oil prices, on the other hand, rose for the fourth straight week.
While one week's performance is never going to move the needle enough to make up for what has been, up to this point, a horrific financing season, it's great to finally see a bright spot in the Canadian natural resources space.