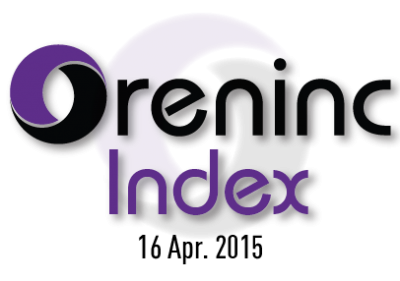 Oreninc Index Take a Normalizing Dive
The Oreninc Index took a normalizing dive for the week ending April 16, 2015. Total dollars announced fell to $29.7m on 16 deals, three- and four-week lows respectively. One brokered and one bought deal were announced for $13.8m, three-week lows for both.
Deal-making was up again this week, with the planned merger between Alamos Gold (TSX:AGI) and AuRico Gold (TSX:AUQ) being the largest confirmed deal. Shareholders of both companies will each own roughly 50% of the merged company in the US$1.5b deal. Commodities had another up and down week, with gold staying mostly flat and iron ore having a nice couple of days to begin the week before coming back down towards the end.
Last week's Index performance and the increased level of deal-making in recent weeks is great to see considering the lackluster year, however it's unsurprising that the Index has fallen to it's trending level.