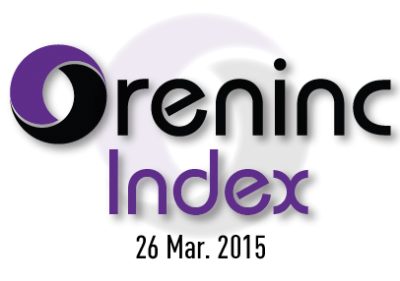 Oreninc Index Falls to Eleven-Week Low
The Oreninc Index fell to an 11-week low for the week ending March 26, 2015. Total dollars announced fell to $20.9m on 15 deals, 11- and two-week lows respectively. No brokered deals were announced for the first time in 11 weeks. No bought deals were announced for the third time in five weeks.
Deals were light, with the major deal of the week being Ivanhoe Mines Ltd.'s (TSX:IVN) agreement to sell China's Zijn Mining Group a 9.9% stake in the miner. Commodities were fairly positive for the week, with oil and gold enjoying gains related to the political crisis in Yemen.
In addition to the poor weekly performance, the Index's five-week moving average hit a multi-year low, highlighting just how bad this first quarter has been. When the only strength of the week is increasing commodity prices due to an uncertain political crisis that is unlikely to spark some sort of long-term pricing trend, you know we are in a bad place.