Oreninc Index: July 8, 2019
ORENINC INDEX down as slim pickings for financings
ORENINC INDEX - Monday, July 8th 2019
North America's leading junior mining finance data provider
Sign up for our free newsletter at www.oreninc.com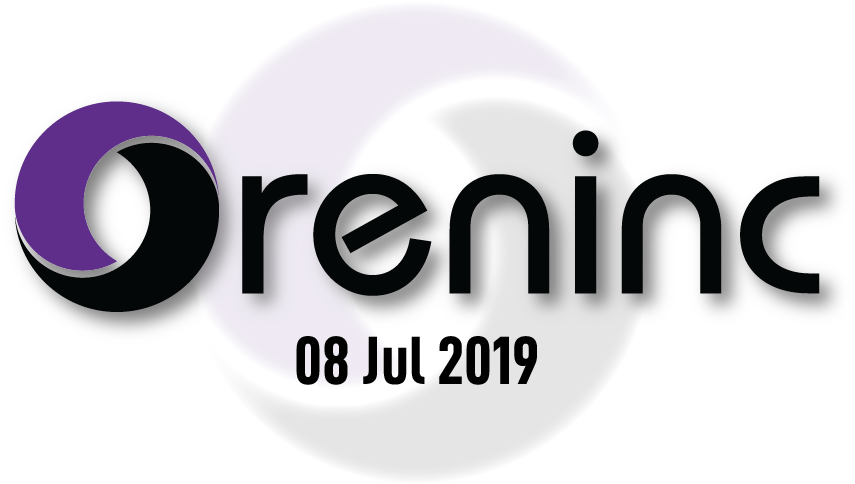 Last week index score: 48.69
This week: 19.76
The Oreninc Index was ethereal in the week ending July 5th, 2019 falling to a barely visible 19.76 from 48.69 a week ago as financings seemed to take the week off for the public holidays.
A short week and quiet as Canada celebrated Canada Day, followed a few days later by the USA celebrating Independence Day. Yet, despite the holiday feel the markets were full of action.
Gold had been holding the line above US$1,400/oz but it took a whack on Friday below $1,390/oz after the US Bureau of Labor Statistics said payrolls rose by 224,000 in June, well above the forecast of 160,000 new jobs. The US unemployment rate increased slightly to 3.7% from 3.6% in June. However, the yellow metal steadily recovered through the day back towards $1,400/oz, adding further evidence that a bull market is developing.
Meanwhile, sovereign bond yields continue to be pared back as the yield on 10-year US Treasuries fell to its lowest level in more than two years, at 1.955%. The yield on Germany's 10-year note is now just above the European Central Bank's deposit rate at -0.4%.
While noise continues about whether or not the UK will leave the European Union, there has been jockeying for position to lead some of the European Union's key institutions. IMF head Christine Lagarde has been nominated to become head of the European Central Bank while German Defence Minister Ursula von der Leyden was nominated to take over the European Commission presidency and Belgian prime minister Charles Michel nominated to become president of the European Council
Turning to trade, while tensions between the US and China over their trade spat were diffused at the recent G20 summit in Japan, nothing has really changed in their bargaining positions, with China still demanding that tariffs implemented by US president Donald Trump be removed before talks advance. President Trump said the US did hold-off imposing tariffs on an another $300 billion of Chinese goods and delay restrictions on Huawei Technologies to let US companies continue selling technology to China's largest telecommunications equipment company.
The US will also possibly deploy tariffs against the EU as the argument over subsidies for aircraft manufacturers Boeing and Airbus continue. The US has identified $4 billion of EU goods which could be targeted while the EU has drafted a list of retaliatory measures.
Oil continues to surge helped be trade concerns and the fact OPEC looks like it will extend production cuts into the long term as the cartel meets in Vienna, Austria. Production fell for the seventh successive month in June.
On to the money: total fund raises was pared back to a measly C$20.2 million, a four-week low, which included no brokered financings and no bought-deal financings. The average offer size fell away to $1.4 million, a four-week low, while the number of financings decreased to 14.
Gold's dramatic week saw it close down at US$1,399/oz from $1,409/oz a week ago after hitting a mid-week high of $1,418 and a low of $1,384. The yellow metal is up 9.12% so far this year. The US dollar index saw some strength and returned to growth to close up at 97.28 from 96.13 last week. The Van Eck managed GDXJ softened as it closed down at US$34.65 from $34.96 from US$34.37 a week ago. The index is now up 14.66% so far in 2019. The US Global Go Gold ETF remained level as it closed at US$14.08 the same as a week ago. It is up 23.42% so far in 2019. The HUI Arca Gold BUGS Index closed down at 193.01 from 194.12 last week. The SPDR GLD ETF saw its inventory rise to more than 800 tonnes again mid-week before closing up at 796.97 tonnes from 794.04 tonnes a week ago.
In other commodities, silver closed down at US$15.00/oz from $15.32/oz a week ago. Copper shed a few cents as it closed down at US$2.66/lb from $2.71 a week ago. Oil retreated as WTI closed down at US$57.51 a barrel from $58.47 a barrel a week ago.
The Dow Jones Industrial Average is at record levels again and pushing 27,000 as it closed up at 26,922 from 26,599 a week ago. Canada's S&P/TSX Composite Index also closed up at 16,541 from 16,382 the previous week. The S&P/TSX Venture Composite
Index closed up as well at 586.79 from 585.47 last week.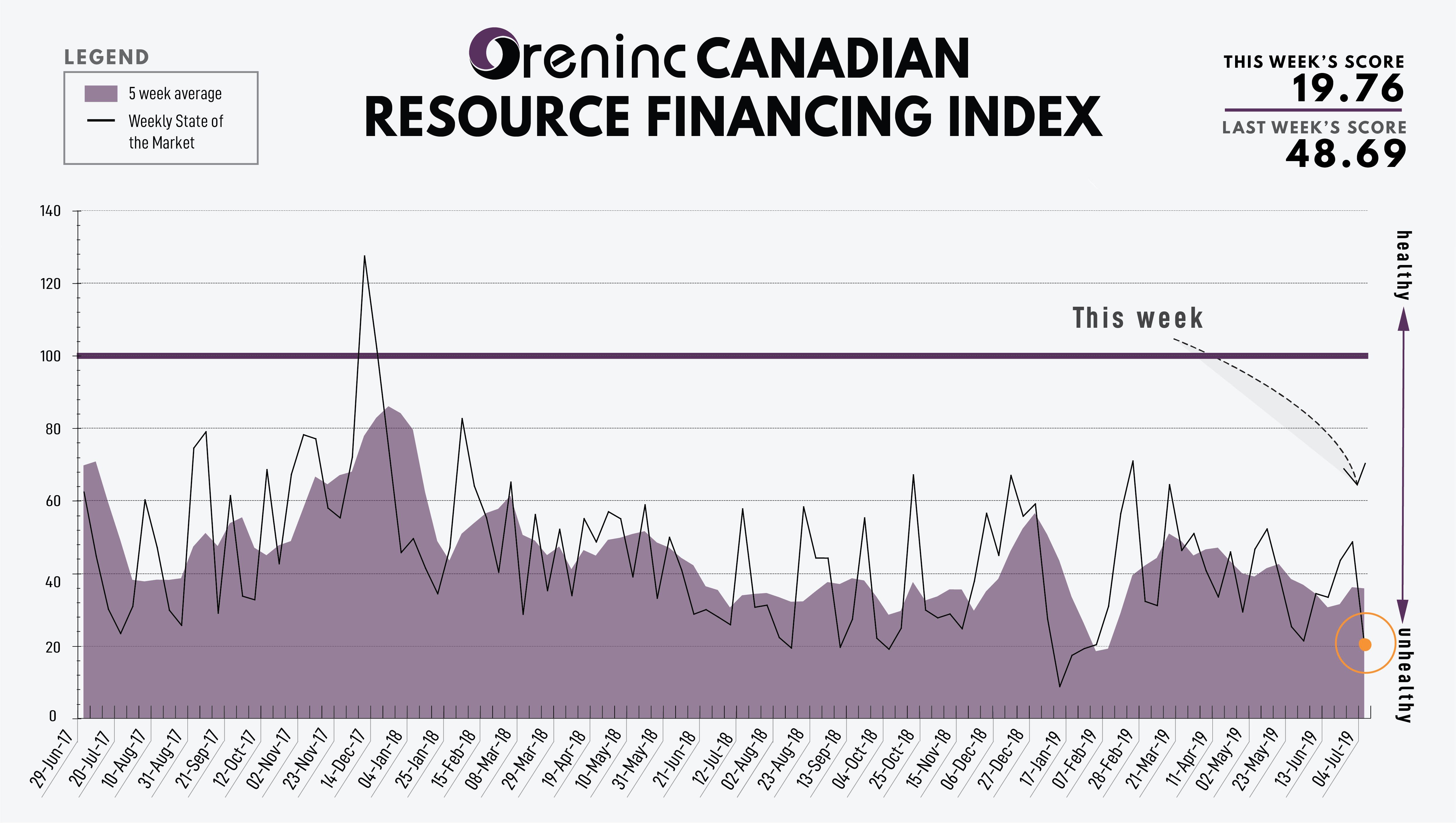 Summary
· Number of financings decreased to 14.
· No brokered financings were announced this, a five -week low.
· No bought-deal financings were announced this week, a five-week low.
· Total dollars down to C$20.2m, a four-week low.
· Average offer fell to $1.4m, a four-week low.
Financing Highlights
AEX Gold (TSXV:AEX) opened and closed a non-brokered private placement of C$5.0 million.
· 13.2 million units @ C$0.38.
· Each unit consists of one share and a warrant exerciseable @ C$0.45 for three years.
· Vækstfonden, the Danish growth fund, subscribed for $1.5 million and Greenland Venture subscribed for $1.5 million.
Major Financing Openings
· AEX Gold (TSXV:AEX) opened a C$5.0 million offering on a best efforts basis.
· QMX Gold (TSXV:QMX) opened a C$3.96 million offering on a best efforts basis.
· Silver One Resources (TSXV:SVE) opened a C$2.5 million offering on a best efforts basis. Each unit includes half a warrant that expires in three years.
· Aguia Resources (TSXV:AGRL) opened a C$2.31 million offering on a best efforts basis.
Major Financing Closings
· Nouveau Monde Graphite (TSXV:NOU) closed an C$11.95 million offering on a insiders only basis.
· Great Bear Resources (TSXV:GBR) closed a C$10.9 million offering underwritten by a syndicate led by Cormark Securities on a bought deal basis.
· Pacton Gold (TSXV:PAC) closed a C$5.99 million offering on a strategic deal basis.
· AEX Gold (TSXV:AEX) closed a C$5.0 million offering on a best efforts basis