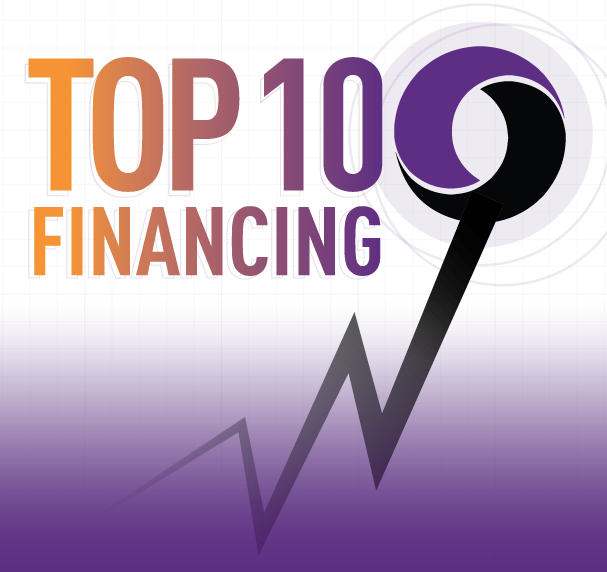 Top 10 Financings for October 2017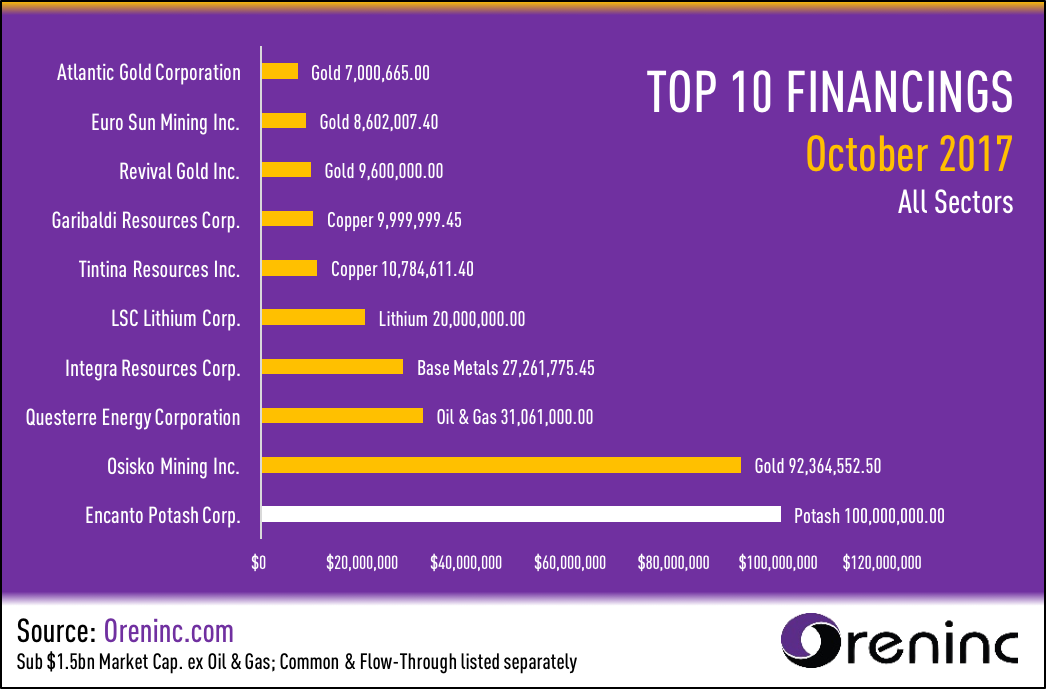 Top 10 Financings of October 2017
October 2017 saw 100 deals close in the Canadian financial markets for an aggregate C$455.0 million at an average of $4.6 million, up 56.4% in total dollar terms over September when 82 financings closed for $290.9 million at an average of $3.5 million.
October saw 53 gold deals close for $222.5 million at an average of $4.8 million, down 5.2% in total value terms from the $234.6 million raised in 59 gold deals in September at an average of $4.0 million. The top ten gold deals in October totalled $258.5 million, some 43.2% of the total.
The top ten deals by size in October totalled $316.4 million, up 60% from the $197.9 million that the top ten represented in September.
Gold companies took just one of the top seven spots, with potash, lithium, oil and base metals performing strongly.
#1 Encanto Potash $100.0 million
Encanto Potash (TSXV:EPO) secured a $100 million funding facility over three years with GEM Investments America and GEM Global Yield. Shares will be issued at 90% of the market price. The proceeds will be used to commence the engineering and design phase of a mine at Muskowekwan in Saskatchewan, Canada in anticipation of a shovel-ready construction date of September 2019.
#2 Osisko Mining $92.4 million
Osisko Mining (TSX:OSK) completed a bought deal brokered private placement of 8.5 million shares @ $4.20 for aggregate gross proceeds of $57.4 million, and 8.3 million @ $4.20 for aggregate gross proceeds of $35.0 million led by Canaccord Genuity on behalf of a syndicate of underwriters. The gross proceeds will be used to fund Canadian exploration expenses.
#3 Questerre Energy $31.1 million
Questerre Energy (TSX:QEC) closed an oversubscribed private placement @ $0.89 for gross of $31.1 million. The funds will allow the company to participate in the development of Kakwa natural gas project in Alberta, Canada and its St Lawrence Lowlands project in Quebec.