Top 10 Financings for November 2017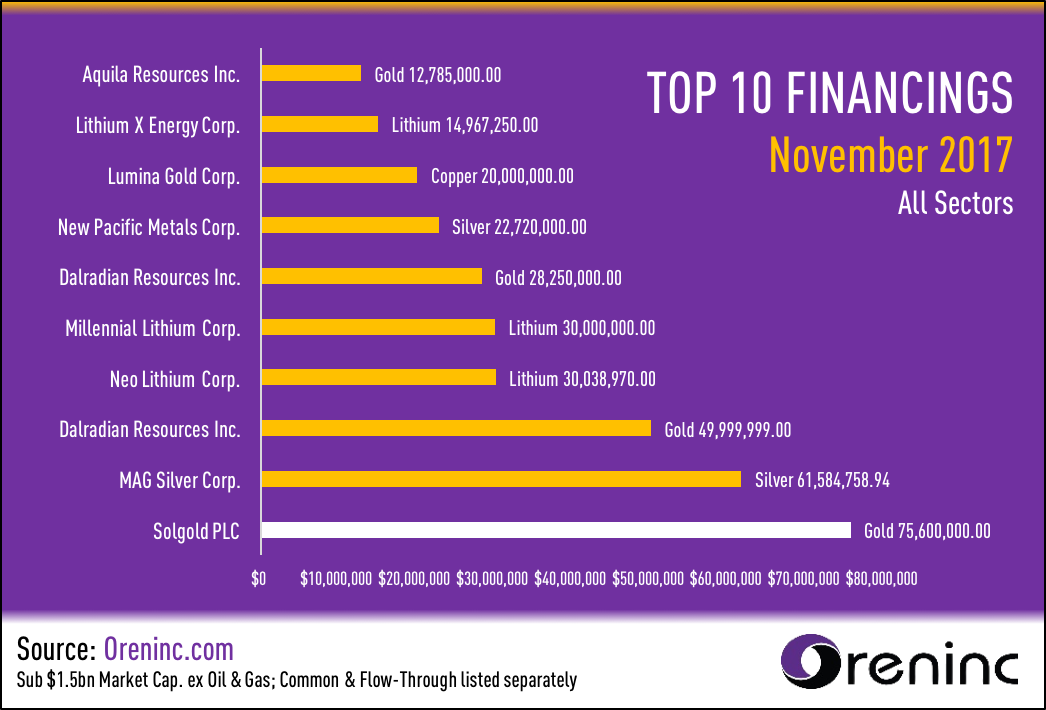 November 2017 saw 107 deals close in the Canadian financial markets for an aggregate C$477.9 million, up 5% on the $455.0 million closed in October. The average size per closing remained at $4.6 million as it was in October, when 100 deals closed.
October saw 50 gold deals close for $285.8 million at an average of $5.3 million, up 28.4% in total value terms compared to the $222.5 million closed in 53 deals at an average of $4.8 million in November.
November saw 12 brokered deals and eight bought deals for an aggregate of $145.4 million at an average $19.3 million per bought deal.
The top ten deals by size announced in November totalled $345.9 million, up 9.32% from the $316.4 million announced in November. Gold took two of the top three spots with Solgolds (TSX:SOLG) $75.6 million raise and Dalradian Resources' $49.9 million raise. Ecuador figured prominently too, with Lumina Gold's (TSXV:LUM) $20 million raise in addition to Solgold's.
Lithium claimed three of the top ten financings announced for an aggregate of $75 million between Neo Lithium (TSXV:NLC), Millennial Lithium (TSXV:ML) and Lithium X Energy (TSXV:LIX).
#1 Solgold $75.6 million
SolGold (TSX:SOLG) opened and closed a £45.0 million (C$75.6 million) bought deal private placement of 180.0 million @ £0.25 pence (C$0.42). The gross proceeds will be used for exploration and studies to advance its flagship Cascabel project and selective regional exploration in Ecuador.
#2 MAG Silver $61.6 million
MAG Silver (TSX:MAG) opened and closed a non-brokered private placement offering of 4.6 million shares to existing shareholders @ US$10.47 for gross proceeds of US$48.16 million. MAG intends to use the net proceeds to fund exploration and development of the Juanicipio silver project in Mexico.
#3 Dalradian Resources $49.9 million
Dalradian Resources (TSX:DNA) closed a private placement with Orion Mine Finance (34.0 million) and Osisko Gold Royalties (19.2 million) shares @ C$1.47 for gross proceeds of C$78.2 million). Orion now owns 9.6% and Osisko 8.9% of Dalradian.