Bought Deals in 2020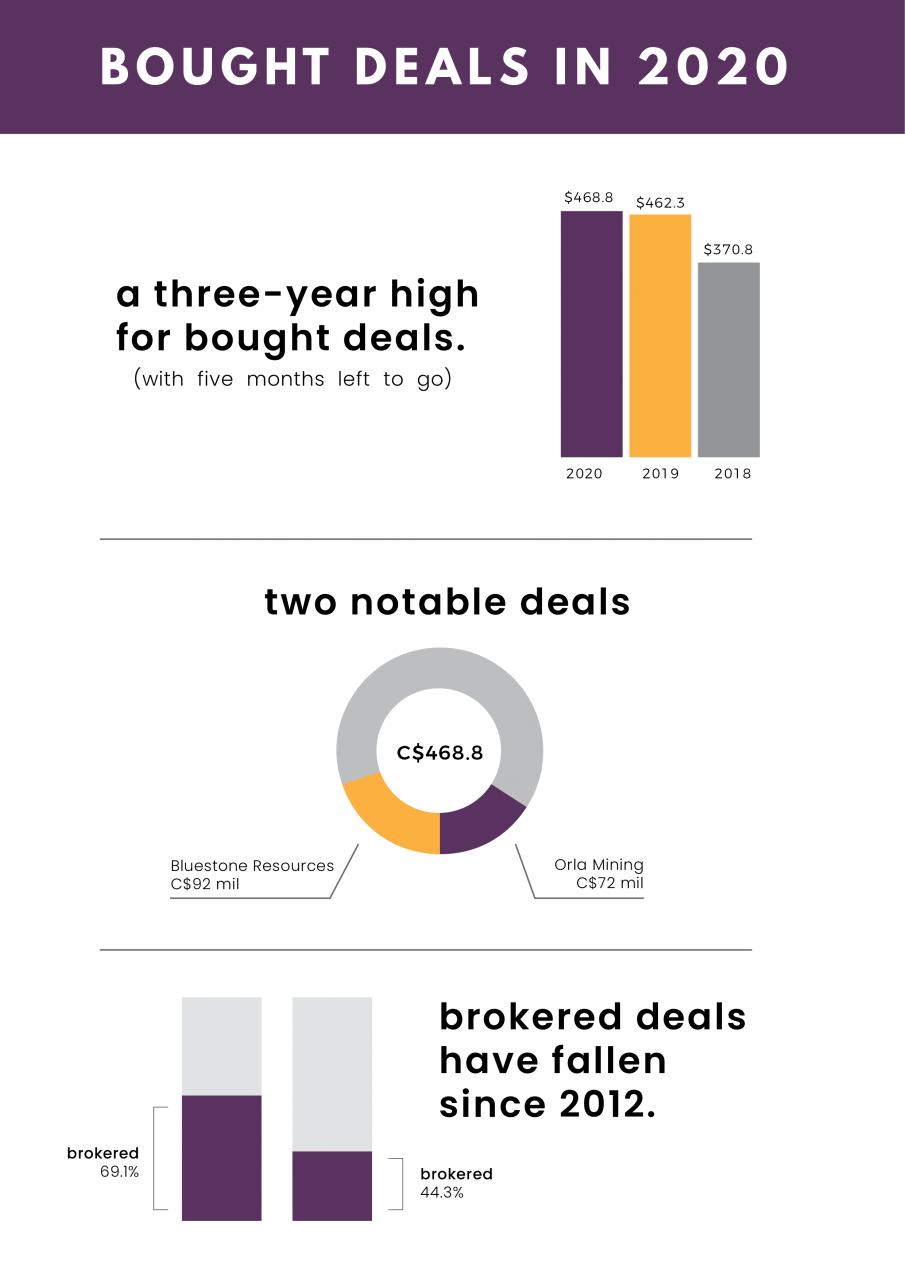 Bought deals increasing, but far from bonanza years
With precious metals prices in the ascendency, bought deals are once again becoming the financing method de jour as investors seek to position themselves in gold stocks. A look back through Oreninc data confirms the trend is increasing but the market is far from reaching the levels of recent bonanza years – so far.
The value of bought deals has hit a three-year high with C$468.8 million raised so far in 2020 in 24 deals, an average of $19.5 million per financing. This beats out the $462.3 million raised in 35 deals in 2019 at an average of $13.2 million and the $370.8 million raised in 26 deals in 2018 at an average of $14.3 million.
Notable bought deals so far in 2020 include Bluestone Resources ($92 million) and Orla Mining ($75 million). They would have included a $75 million SilverCrest Metals deal in March which was aborted.
2016 and 2017 were both big years for bought deals, coming as the gold market started to revive from its years´-long bull, with aggregate raising of $933.4 million and $931.2 million respectively, although 2016 was the stronger year. 2016 saw 45 deals at an average of $20.7 million while 2017 saw 62 deals at an average of $15 million.
Notable bought deals in 2016 were Lundin Gold ($94.9 million, Belo Sun Mining ($75 million) and Sandstorm Gold ($74.8 million). Notable deals in 2017 were SolGold ($75.6 million), McEwen Mining ($57.3 million) and Osisko Mining ($52.1 million).
However, neither of these can compare with 2012 which $1.2 billion raised in 55 deals at an average of $21 million. Only when the appetite for gold financings has been really strong (2012 and 2016) have the aggregate bought deal dollars raised exceeded the aggregate of non-brokered dollars raised.
Notable bought deals in 2012 included Oceana Gold ($93.3 million), Continental Gold ($86.3 million) and Pretium Resources ($80.5 million).
A clear take away is that the biggest bought deals are usually project developers raising the equity portion for a project finance package or explorers who have really captured the market's imagination.
The data also shows other trends. Bought deals may be on the rise again but the long-term trend clearly shows shrinkage in the amount of brokered financings. Including best efforts brokered financings as well, brokered deals have fallen from 69.1% of the total in 2012 to 44.3% so far in 2020. Or to put that another way, non-brokered deals have increased from 30.1% in 2012 to 55.8% so far in 2020.
With five months of 2020 yet to run and gold prices finally at historical highs in US dollar terms, we can expect many more bought deals to come.
Positions
Positions
Popular Position