Oreninc Index Update: April 18, 2013
Oreninc Index Stumbles to Nine-Week Low
The Oreninc Index fell to its lowest level since February for the week ending April 18, 2013. Total money announced fell to to its lowest level in 2013. Despite the overall drop in money announced, total brokered dollars announced remained almost flat. Unfortunately, here has been a 70% drop in total dollars announced when comparing Q1 2011 to Q1 2013. The equity market slump is continuing, with no clear sign of when a turnaround is likely to hit.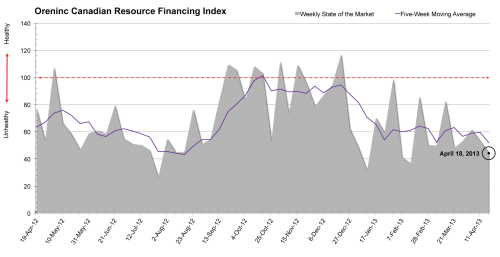 Summary:
Total deals announced dropped to 18, a nine-week low.

Three brokered deals were announced; brokered dollars announced fell to $30.2 million, a four-week low.

Zero bought deals were announced, the first time since late March.

Total dollars announced dropped to $44.7 million, a YTD low

Average deal size decreased to $2.6 million, a four-week low.
Major Financing Openings:
Major Financing Closings: