Oreninc Index Update: February 21, 2013
Oreninc Index Jumps in Holiday Shortened Week
The markets started to display a heartbeat of life, and the Oreninc Index took a positive turn in the family day shortened week ending February 21, 2013. The week saw a marked increase in dollars opened for both brokered and non-brokered deals. Numbered of brokered deals was flat, while one bought deal was announced for the first time in three weeks. Although the financing markets remain very shaky, it's nice to see jumps from time to time.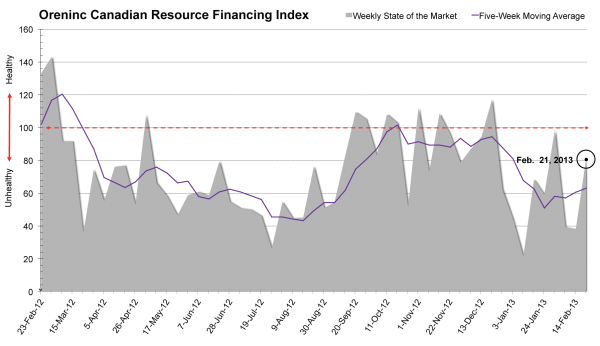 Summary:
Deals announced jumped to 35, a three-week high.

Two brokered deals were announced, flat from last week; brokered dollars announced increased to $70 million, tripling last weeks total.

Two bought deals were announced, the first bought deals in three weeks.

Total dollars announced nearly tripled to $123 million, a three-week high.

Average deal size increased to $3.5 million, a three-week high.
Major Financing Openings:
Major Financing Closings: