Oreninc Index Update: October 3, 2013
Oreninc Index Remains Flat
The Oreninc Index remained flat for the week ending October 3, 2013. Total dollars fell to $79.8m, with an average deal size of $2.4m. Even with the drop in total dollars, broker activity increased sharply to $60.5m on four deals. After a summer of wild fluctuation, this period of relative consistency is a mild surprise. It's hard to imagine it sticking around, with 2013's trademark volatility likely to return before we enter back into any sort of real stability.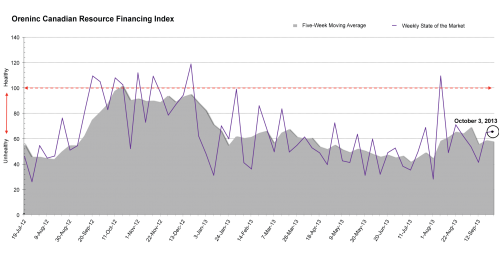 Summary:
Total deals rose to 42, a one-week low.

Four brokered deals were announced for $60.5m, a two-week high.

One bought deal was announced for $10m, a one-week high.

Dollars announced fell to $79.8m, a three-week low.

Average deal size fell to $3.6m, a three-week low.
Major Financing Openings:
Major Financing Closings: